A night of 17th Century Lute and Voice
Catherine Hancock, Soprano, and Hideki Yamaya, Renaissance Lute, come together to offer an exciting and unique night of 17th century English lute songs to the Racebrook Lodge's Down County Social Club. Join us for on a musical journey through British 17th century song over a cocktail or two. This dynamic, beautiful, and often underrepresented genre offers a wide variety of textures, emotions and a peek into history.
About the Performers:
Hideki Yamaya is a performer of lutes, early guitars, and early mandolins based in New Haven, Connecticut, USA. Born in Tokyo, Japan, he spent most of his career in the West Coast before settling in New Haven, where he is a freelance performer and teacher. He has a B.A. in Music and an M.A. in Ethnomusicology from University of California, Santa Cruz, where he studied with Robert Strizich, and an M.F.A. in Guitar and Lute Performance from University of California, Irvine, where he studied with John Schneiderman. He also studied with James Tyler at University of Southern California and with Paul Beier at Accademia Internazionale della Musica in Milan, Italy. In demand both as a soloist and as a continuo/chamber player, Hideki has performed with and for Portland Baroque Orchestra, Portland Opera, Santa Cruz Baroque Festival, Musica Angelica Baroque Orchestra, Los Angeles Master Chorale, Los Angeles Opera, California Bach Society, Oregon Bach Festival, Astoria Music Festival, Music of the Baroque, and Shakespeare's Globe Theatre. He is one half of the Schneiderman-Yamaya Duo and is the artistic director for Musica Maestrale, an early music collective based in Portland. He is an internationally acclaimed musician and has performed in Canada, Japan, Great Britain, Germany, and Italy.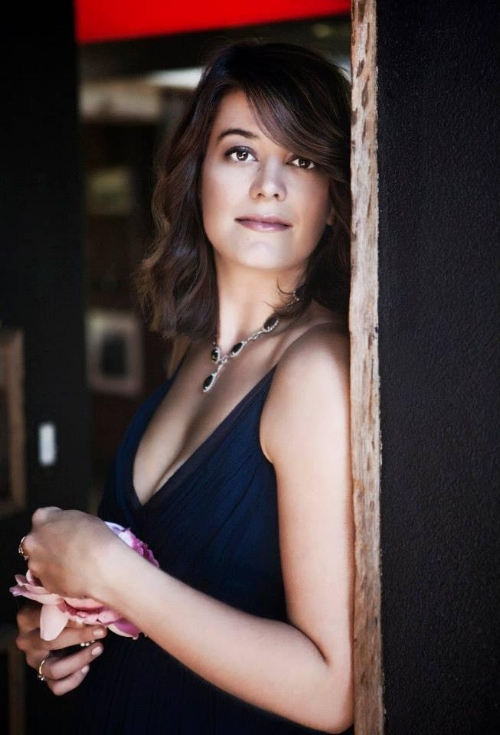 British-American Soprano Catherine Hancock has established herself as a versatile artist, equally comfortable in multiple genres and styles ranging from Renaissance music to opera and performance art. She recently gained attention for her debut with Toledo Opera as Cherubino (Le Nozze di Figaro), where the Toledo Blade stated "The highlight of the evening was the cocky pants role Cherubino (Catherine Hancock). Not only was the suave swain an excellent comic relief, but her second act 'Voi Che Sapete' was simply exquisite." Catherine performs regularly throughout the northeast and Europe, where is sought after for her interpretations of early and contemporary repertoire. Recent career highlights include performances at BAM, MoMA, Alice Tully Hall, and with The Mark Morris Dance Group, Sandcastle New Music Collective presented by Metropolis Ensemble, New York Festival of Song (NYFOS), The Glimmerglass Festival, and the rock band 30 Seconds to Mars. She recently made her European debut under the baton of Richard Egarr singing Valletto (L'inoronazione di Poppea) at the Snape Malting Proms as a Britten-Pears young artist. Catherine currently splits her time between New York City and Great Barrington, Massachusetts where she acts as the Advancement Coordinator at the Mahaiwe Performing Arts Center. Catherine holds both a Bachelor and Master of Music from The Juilliard School and a Professional Studies Degree from Mannes, The New School for Music.
<><><<><><><><><><><><><><><><><><>
7-10pm Thursday, January 3rd, 2019 at The Down County Social Club.
beneath The Stagecoach Tavern
864 South Undermountain road ( AKA Rt 41 ) Sheffield, MA
$10 donation for the artists
<><><<><><><><><><><><><><><><><><>
For packages, including accommodations at Race Brook Lodge and dinner at The Stagecoach Tavern, check out the DCSC Special Package!
The Down County Social Club features a handpicked selection of extraordinary and rare entertainment presented in an intimate speakeasy-style environment. Our live performances include music, dance, performance art, poetry and multimedia works. We also occasionally offer films and academically themed events. Our programming is as eclectic as you can imagine!

For info/directions and dinner reservations at The Stagecoach Tavern, call 413-229-8585. Visit our Facebook Page!
MORE EVENTS COMING UP AT RACE BROOK LODGE: