Hypnosia Performance Package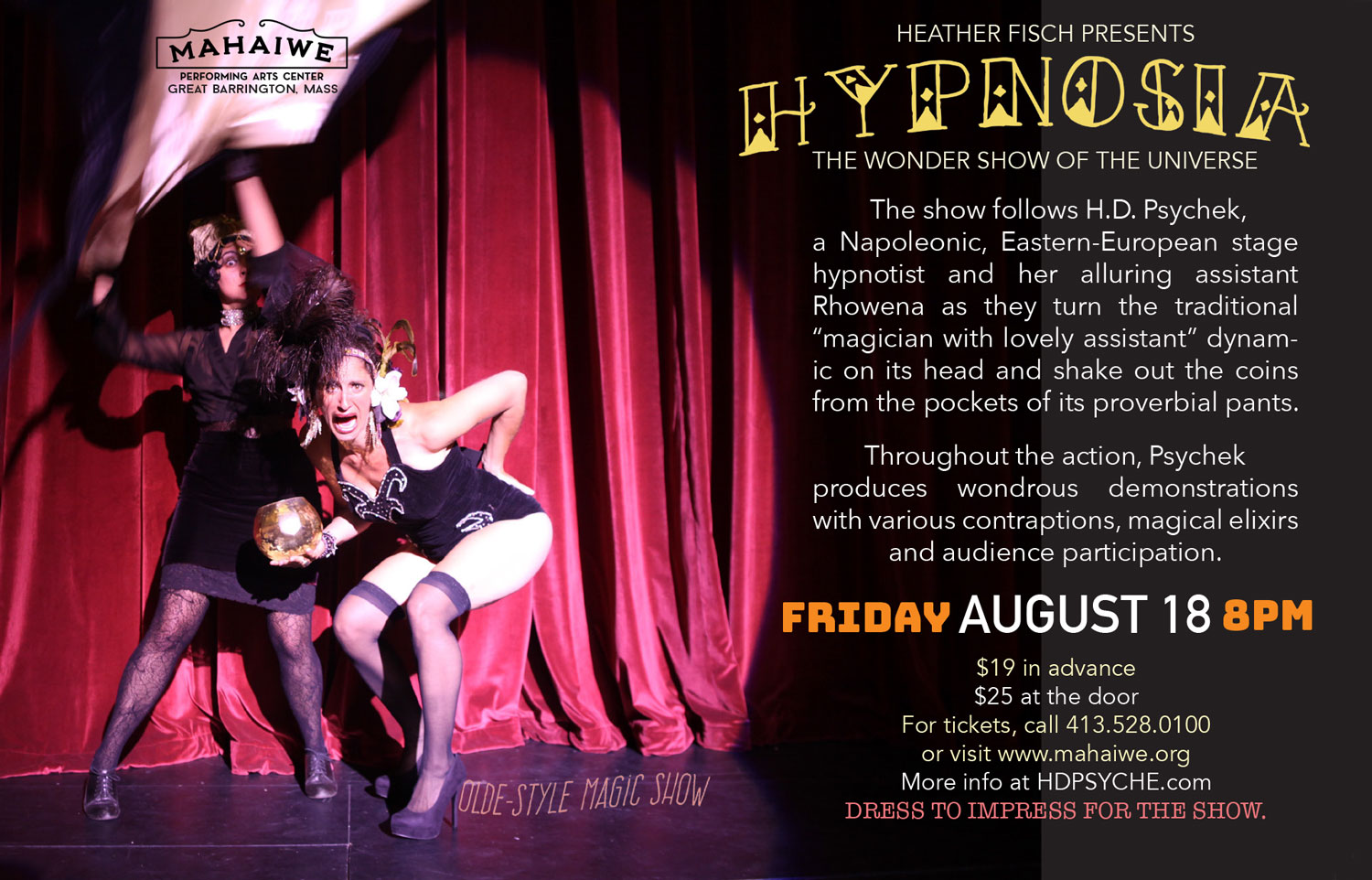 HYPNOSIA PERFORMANCE PACKAGE
Available only for weekend of August 18th, 2017
Coming from out of town to see Heather Fisch's latest performance?
We'll give you a great deal to spent the night with us.
Limited rooms are available for special guests and friends of the performers.
Contact us for booking, info@rblodge.com or by phone (413) 229-2916.
Single guest packages starting at $75 + tax, includes:
One night stay with beyond continental breakfast

Tickets to show at Mahaiwe Theater
 
One night only.
Aug 18th, 8p at the Mahaiwe in Great Barrington, MA.
Hypnosia ~ The Wonder Show of the Universe is an old-style magic and hypnosis show.
OFFICIAL PRESS RELEASE:
Critical mass of international artists collaborate with local producer to bring audience an experience of genuine marvel.
GREAT BARRINGTON, Mass. – Performance artist and local hero, Heather Fisch wants you to know that her newest live theater show, "Hypnosia - The Wonder Show of the Universe," is a legitimate hypnosis show. But, we're not talking about run-of-the mill stage hypnosis here; this show deconstructs and reconstructs the basis of reality.
"After a haphazard exploration of trance states during the creation of my last theater project, two years ago, I became fascinated by the subconscious" says Fisch, "thats when I decided to study hypnosis."
"Hypnosia" is part old-style magic show, part social commentary, and part boundary-pushing live theater experience. Premiering at the Mahaiwe Performing Arts Center on Aug. 18, the show is glittering, sexy, and cunningly contrived. Viewers are invited to access their deepest selves while cradled by the safety net of comedic absurdism.
"The hypnosis element was dangling in front of me like a low-hanging fruit," says Fisch. "I'd love for this show to blow people's minds open to new possibilities in their own lives and to continue unlocking our collectively untapped human potential."
The show follows H.D. Psychek, a Napoleonic Eastern-European stage hypnotist played by Fisch, and her alluring assistant Rhowena, played by Amy Dawn Verebay, as they turn the traditional "magician with lovely assistant" dynamic on its head and shake out the coins from the pockets of its proverbial pants. Throughout the action, Psychek produces wondrous demonstrations with various contraptions, magical elixirs and audience participation.
A full score of live music features international musical artists Angel Espinoza of Puebla, Mexico, Tarcisio Ramos of Estância, Brazil, Brandon Vetrano of Brooklyn, New York and surprise guests from the Czech Republic and beyond.
Elaborate, surreal set pieces and ornate over-the-top costumes impart a richness that is sensual, tactile and gritty. With the help of set-design ace Leo 'Of Twenty' from São Paulo, Brazil, media-design wizard Nicole Jaquis, hailing from three-hours-North-of-Bageshwar, India, and accomplished art and concept director Saadia Shaza, head of Barn Home's esoterica and arts department, Fisch has created an awe-inspiring visual masterpiece.
In "Hypnosia - The Wonder Show of the Universe," Fisch recovers a genuine experience of the marvelous and a sense of wonder, in a world from which it has long been banished.